MANDATORY COVID-19 VISITATION PRECAUTIONS & GUIDELINES
[EFFECTIVE NOVEMBER 11, 2022] As the incidence of COVID-19 fluctuates throughout our communities and region, visitation guidelines at Serenity House are adjusted to protect our patients and their families, our employees, and all those who rely on us for care. Therefore, in the spirit of health and safety, following are Serenity House visitation guidelines:
*** Visitation hours are limited to 8 AM to Midnight. ***
*** One guest may stay overnight for patients who are actively at end-of-life. ***

1) PRIOR TO ENTERING SERENITY HOUSE, all visitors are required to:
     > Check temperatures.
     > Clean their hands.
     > Complete COVID screening survey. Visitors with any symptoms will be restricted from entering.
Runny nose or sneezing
Coughing or sore throat
Shortness of breath
Pain with deep breathing
Chills
New loss of smell and/or taste
New GI issues like soft stool or stomach cramps
2) All visitors must WEAR a SURGICAL MASK or N95 MASK AT ALL TIMES – fully covering nose and mouth – regardless of vaccination status or COVID test result.
3) Gathering in the Dining Room remains restricted to visitors.
Thank you for helping our communities remain safe and well.
TO REQUEST ENTRY CALL 805-617-7777
A place like home.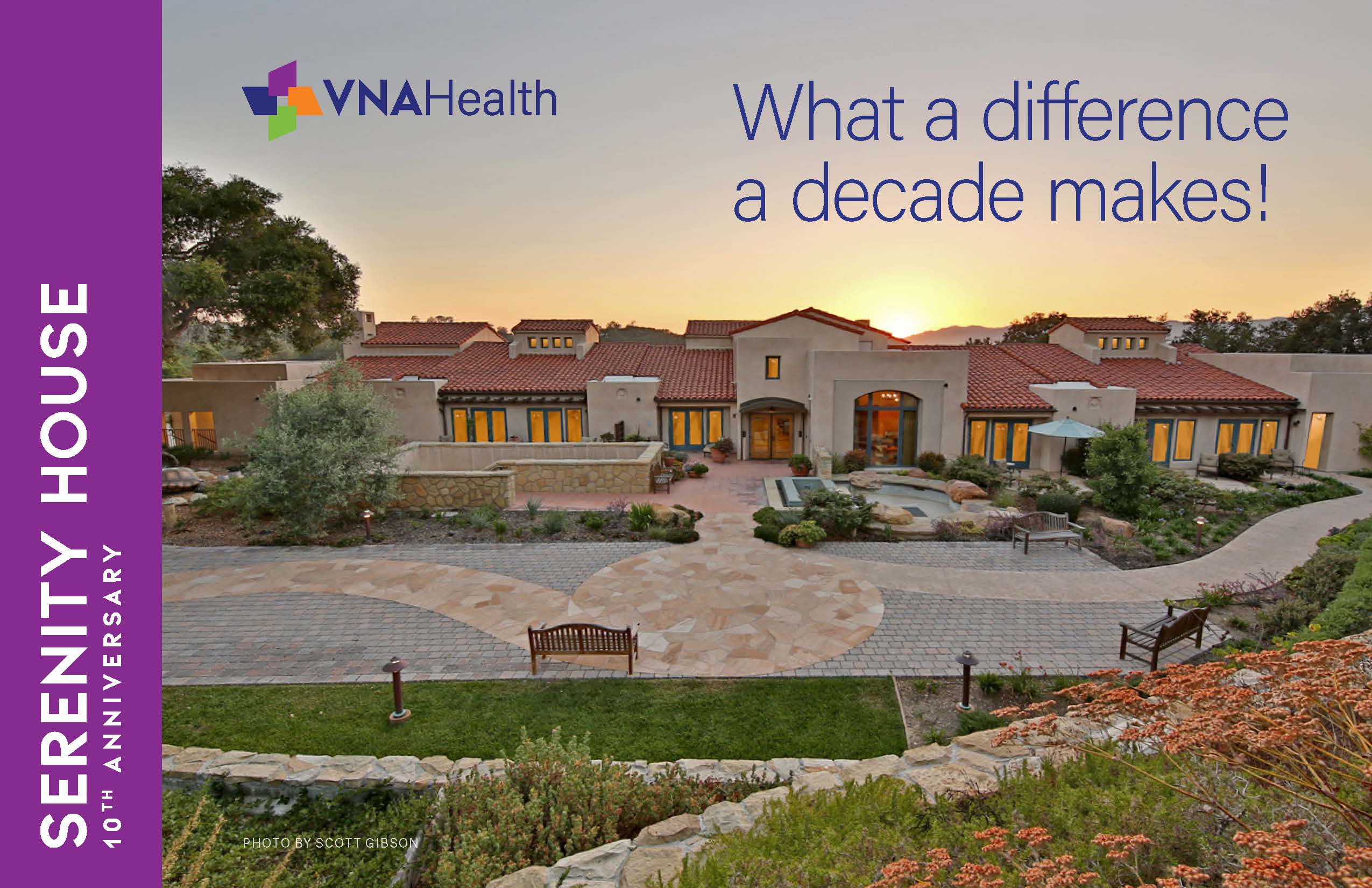 VNA Health is proud to offer our Serenity House as a unique option in end-of-life care for hospice patients whose needs cannot be met at home. Patients are cared for in a tranquil and homelike setting. Each private room allows patients to be surrounded by loved ones throughout their time with us.
Our Serenity House team includes physicians, all of whom are board certified in hospice & palliative medicine, nurse practitioners, registered & licensed vocational nurses, home health aides, medical social workers, bereavement counselors, chaplains, pet therapists, a certified music therapist, a registered dietitian, a chef, and specially trained volunteers.
Our Patient Care Priorities
Honor the values and decisions of our patients.
Provide comfort by relieving pain and managing other complex symptoms.
Support our patients and their families, as they address emotional, spiritual, and practical concerns through our Bereavement Services.
Our Special Offerings
Integrative Therapies include soothing practices such as guided imagery, gentle reflexology, mindfulness practice, reiki and aromatherapy. These therapies increase comfort and provide a sense of well-being.
Through a variety of music experiences, our Music Therapy Program provides support to patients, family members, and loved ones, helping to reduce stress, improve relaxation, and decrease physical pain and discomfort.
Through our We Honor Veterans program, we offer a Vet-to-Vet Volunteer Program to match hospice volunteers who are veterans with patients who are also veterans.
Cost of Care
We work closely with health insurance plans, Medicare, CenCal (MediCal) to maximize the portion that insurance covers. Serenity House room and board is not generally covered by Medicare or insurance. If qualified, subsidized care is offered on a sliding fee scale. Our charitable mission ensures that those who cannot afford are not turned away.
Take a digital Video Tour of Serenity House. Just click the "play" icon below.
Serenity House tours and consultations are offered at no cost any day of the week. Call 805.617.7777 to schedule your visit.