HOLIDAY SEASON LOAN CLOSET HOURS
THU, DEC 23 – Loan Closet is OPEN from 8 AM to 2 PM (Limited Hours)

FRI, DEC 24 – Loan Closet is CLOSED for Christmas
THU, DEC 30 – Loan Closet is OPEN from 8 AM to 2 PM (Limited Hours)

FRI,  DEC 31 – Loan Closet is CLOSED for New Year's
HAPPY HOLIDAYS!
MANDATORY COVID-19 PRECAUTIONS
For the health and safety of Loan Closet visitors, volunteers and staff, we are…
Requiring appointments to the Loan Closet be made in advanced.
Please call 805.690.6235. Loan Closet is open Mon-Fri, 8 AM to 4 PM.


Limiting the number of visitors inside the Loan Closet.

Requiring all visitors to clean their hands prior to entering

RESTRICTING visitors with any of the following symptoms. If you have any of these, we CANNOT permit you to enter.

Fever

Cough

Shortness of breath

Pain with deep breathing
Thank you for your understanding. Please know that we are implementing this safety measure in the spirit of being respectfully cautious to proactively slow the spread of COVID-19 for the well-being our community.
The only community resource to borrow basic medical equipment.
The Loan Closet is the only community resource in Santa Barbara County offering free short-term loans of basic medical equipment. Owned and operated by VNA Health, the Loan Closet has been in serving the County since the founding of VNA Health in 1908. Today the Loan Closet serves more than 4,000 residents each year, and is completely supported through private donations and contributions, often from people who have benefited from the Loan Closet.
Need Medical Equipment?
There may be a time when you need a wheelchair, walker, crutches, shower bench, or other assistive device. Your need may be for a few weeks or for an extended period of time. The Loan Closet has an assortment of durable medical equipment ready to lend to Santa Barbara County residents.
There is no fee for borrowing equipment. To inquire about availability of equipment please call 805.690.6235 or email loancloset@vna.health before completing the Loan Closet Equipment Loan Form.
Download and print our Loan Closet Equipment Loan Form.
Need to Return or Donate Equipment?
When you no longer need medical equipment, please consider donating or returning it to the Loan Closet. Most small medical equipment is accepted, as long as it is in good condition. Due to limited storage space, large items such as hospital beds cannot be donated. For tax purposes, we will be glad to provide you with written acknowledgment of your donation.
LOCATION
The Loan Closet is located at VNA Health's corporate offices in Downtown Santa Barbara. You may enter the Loan Closet from the VNA Health parking lot located at 360 Olive Street between E. Montecito Street and E. Gutierrez Street.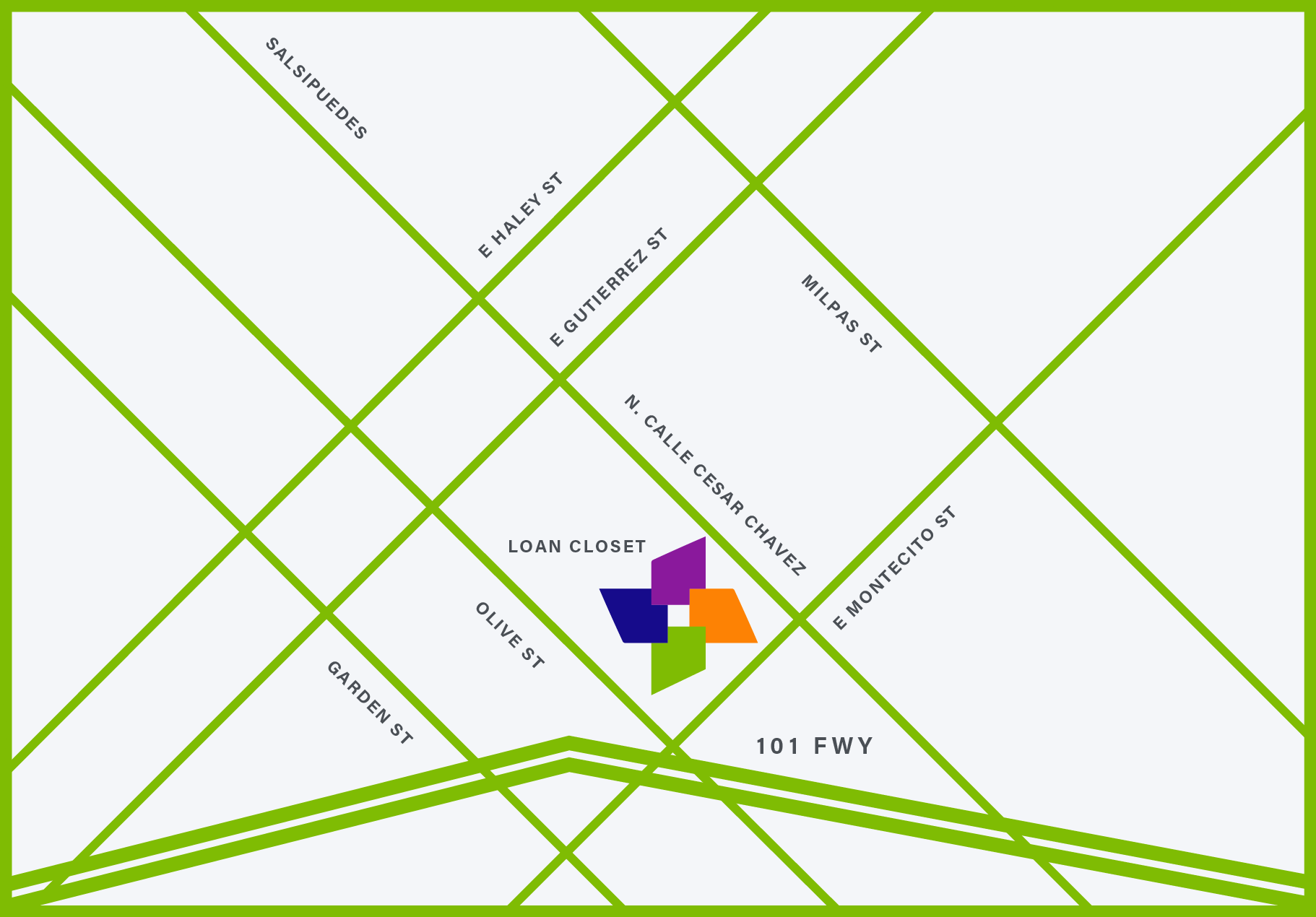 LOAN CLOSET HOURS
Open Mon-Fri, 8 AM to 4 PM.
ANNUAL HOLIDAY CLOSURES
New Year's Day – Closed
Memorial Day – Closed
Independence Day – Closed
Labor Day – Closed
Thanksgiving Day – Closed
Christmas Day – Closed
Download and print our Loan Closet Equipment Loan Form.