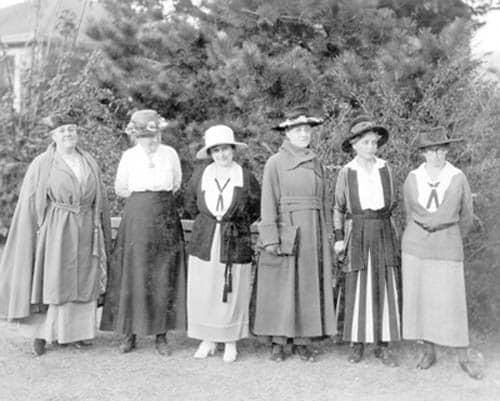 Legacy of Synergy
Working together since 1908
"Synergy, the bonus that is achieved when things work together harmoniously."
– Mark Twain
At VNA Health, synergy plays an important role in everything we do to help our patients and their families live well, whether they are coping with injury, illness, or end of life. Our staff, volunteers, donors, and community partners are all vitally interdependent in accomplishing great work every day. Together, we help our community more than any one person or one organization could accomplish alone.
That being said, before there can be great synergy, first must come an individual with great vision. In the case of VNA Health, our legacy began in the early 1900s when a visiting nurse, Miss Marian Watts, recruited a group of "public spirited and far-sighted" women to help build our organization in order to better serve our community.
Founded in 1908 and originally known as VNA of Santa Barbara, this group of women worked in synergy together to establish many medical firsts in our community, including a dispensary offering urgent care services, an infant welfare station, a nursing education program, a dental clinic, cardiac clinic, tuberculosis clinic, and posture clinic.
Today, many of these programs continue and are supported by our fellow healthcare partners as we focus on remaining our community's leading provider of comprehensive in-home healthcare. In addition to providing professional skilled nursing, rehabilitative therapies, home health care, palliative care, hospice care, and bereavement care, we also offer life-enriching programs including Music Therapy, Integrative Therapy, Pet Therapy, Vet-to-Vet Volunteer Services, Community Education, and our Loan Closet. Like Marian, we rely on our community for the support necessary to continue our work that positively touches so many lives. VNA Health's exceptional staff, talented volunteers, and generous philanthropists work together to help our patients and families live well with health and dignity.